You may need a nurse or brother at your home to take care of. but you dont know where you can get a qualified nurse or who can provides you the perfect nurse/brother.There are lots of nursing home care in srilanka.But How do you know they aren't falling you in a trap?
Because  most of the  Nursing home care don't have the qualified Nurse/Brother but they are taking money as a qualified Nurse, Money isn't the big deal but what about care. Think, your are getting a service for your new born baby but she don't know how to control a newborn. Even some some Nursing Home Care even don't have the government certificate. That will be more harmful for you. 
That's why we are decide make a list of best nursing home care in Sri-Lanka.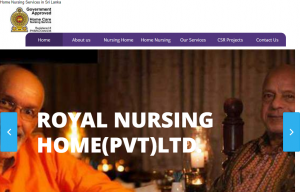 It was founded on the 1st of October 2007. Royal Nursing home care (pvt.) ltd, Navinna Maharagama is the largest and leading Nursing Home In Sri Lanka. There are more than 600 professional staff. The Royal Nursing Home provides excellent reliable quality nursing services to local and foreign clients over a period of 14 years. We are also the leading nursing homes for senior citizens with an ambulance service in Sri Lanka. Hotline: 
At Certis Lanka Home Nursing & Swift Care (Pvt) Ltd, we take pride in being the pioneer in introducing the home nursing care concept to Sri Lanka. Geared with the vision to empower the health sector of the country, we are dedicated to care for our patients and clients with ultimate respect and attentiveness. As the foremost caregivers of the country, we aim to deliver a patient–focused and customer-centered service to our clients. Hotline:  011-2585777 
3. Cinnamon Grove Nursing Care
They are best for Seniour Care. Nestled in a former cinnamon estate, Cinnamon Grove, Cinnamon Care Services' flagship assisted living facility, has been conceived to deliver the revered standards of elderly care, synonymous with the heritage and culture of Sri Lanka.
Fortified by the use of best in class principles and practices, gained through several decades of dementia and geriatric care in the UK and operating to the stringent guidelines of the UK's Care Quality Commission. Hotline: 94 (0)773400524
4. Winlanka Nursing Care Home:
Designed for Senior citizen retirement, bed ridden patients needing long and short term residential nursing care Operated by Winlanka Hospital, Nugegoda, situated right behind the hospital. Hotline: +94773388871
I hope it will help you to get a qualified nurse. {N.B. Maybe It can be mistake. we requesting  you please check their detail before you call}